Rafi Bohic is one of the best fighters you've probably never heard of. The only reason you haven't heard of him is because he is a French fighter who isn't featured on some the shows that casual fans watch. Rafi is a WMC and WBC World Title Holder and also won the MAX tournament belt (8 man tournament).
Rafi comes from Singpatong-Sitnumnoi in Phuket. If the name Singpatong sounds familiar, it is the same gym that the last Lumpinee champion Damien Alamos trained (also a French fighter). In fact, Damien and Rafi were training partners before Damien decided to give up Muay Thai.
While his old teammate Damien Alamos utilized more skill and technique, Rafi is a fighter who uses strong punches and aggression to win his fights. I've seen him fight in person a handful of times and he is a fighter who commands a lot of respect because of his knockout power.
Ever since Damien retired from fighting, it was only a matter of time before Rafi was going to work his way up to the top ranks of Lumpinee.
Rafi was recently given a chance to challenge for the vacant Lumpinee title. Watch the full fight below to see if Rafi was able to become the third foreigner ever to win the title.
Rafi vs Pongsiri (Lumpinee Title Fight)
Thanks to MuayTies for the upload
Thoughts on the Fight (Spoiler Alert!)
The first thing I noticed when I watched this fight is that Rafi had a pretty big size advantage over his opponent. I would guess that he was at least 4 kgs (9 lbs) heavier than his opponent after they weighted in and re-hydrated. Now this is not a big deal in any normal fight, but you would think that they would have matched opponents around the same size for a Lumpinee fight.
Regardless of the size advantage, Pongsiri is not an easy opponent by any standard. Even though he gives up a bit of size, he still has the skill, strength and power to contend with the hard hitting Rafi. You have to give the promoter credit for understanding the matchup and knowing that this would be an extremely entertaining fight.
Throughout the fight, Pongsiri had slightly better timing which allowed him to block most of Rafi's kicks and evade his strikes. While Rafi was able to land some vicious elbows that cut Pongsiri, it wasn't enough to cause the fight to stop.
Reading Patterns – A Beautiful Elbow
In the second round of the fight Pongsiri catches Rafi with an amazing uppercut elbow. Taking advantage of Rafi's tendency to throw a looping lead hook that exposes his chin, Pongsiri comes forward with a straight elbow strike down the middle.
I've already talked about the importance of reading your next opponent before and this fight is a great example of this.
Leading up to the knockdown, Rafi kept on coming forward with this looping left hook right kick combination. This clip below showcases Rafi using this combo twice within an 8 second time period.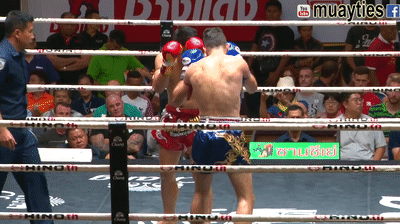 Seeing Rafi already execute this pattern twice in a row, Pongsiri knows he's likely going to go back to his bread and butter move. Knowing this information, Pongsiri waits for Rafi to throw that strike again and steps forward with a beautiful uppercut elbow.
As you can see from the clip above, that elbow is a thing of beauty. Stepping forward at the some time as his opponent, he is able to smash Rafi's jaw and put him down for the count.
Following the knockdown there would be a lot of back and forth exchanges between both fighters, but it was difficult for Rafi to recover the points he lost from the knockdown.
Even though Rafi manages to viciously cut up his opponents forehead, Thai's aren't not easily swayed by blood. While foreigner judges probably would have given the fight to Rafi because of all the blood on Pongsiri, Thai judges are used to seeing blood baths.
A Missed Opportunity
For Rafi Bohic this fight represents a missed once in a lifetime opportunity. If he didn't get knocked down in the second round, he would have had a chance of trying to steal the fight. This was a great chance to become only the third foreigner to win a Lumpinee title.
Knowing Rafi's toughness and determination I'm sure he will come back stronger than ever. While he may not get another shot at a Lumpinee title, I'm sure he will continue to fight the top competition and making a name for himself around the world.
Overall it was an excellent fight that featured two high level fighters competing for a shot at history. Unfortunately for Rafi, his opponent Pongsiri was not willing to see another foreigner crowned champion in his home country of Thailand.